Thank you for visiting my website.
I am a holistic therapist qualified in Kinesiology, Nutritional Therapy, Massage, Reflexology and Homeopathy and have diplomas in Nutrition for Cancer Prevention and Longevity and Holistic Diagnosis Skills. I am also qualified as a Reiki Master/Teacher, Angel Master/Teacher and Hatha Yoga Teacher. If you want information on my other therapies, please visit my therapy website: www.HolisticDani.co.uk
Along with my qualifications, I have extensively researched into Body Detox and Natural Health for my natural health business, Shop Holistic Ltd. I now work on a consultancy basis researching not only into cutting edge natural health innovations and discoveries (often bringing back ancient wisdom and natural methods!), but also into the best source and variety/form of these products for optimum health. I am currently studying German New Medicine, suppressed scientific research that explains how disease is not a malfunction but purposeful biological programmes set into motion by a conflict shock/trauma. This explains how symptoms are meaningful, carrying out a purpose for the healing and survival of our body. Kinesiology fits beautifully with this knowledge as the muscle testing can be very informative in determining what our body needs to assist in its healing while not interfering with the job it is trying to do!
I have been a holistic therapist since 2007 and used muscle testing as part of my practice since around 2012, when I learned the technique while studying for my Holistic Diagnosis diploma. I finally qualified in Kinesiology in 2016, and even though it is fairly recent, I have extensively used kinesiology for my own personal healing journey which has certainly been challenging and informative! I have recovered from chronic candida and parasites, fibromyalgia, chronic Lyme, heavy metal toxicity and breast cancer, along with many other more minor ailments and lots of emotional issues! I also use kinesiology regularly on my family and even my pets, and the results I have never cease to amaze me!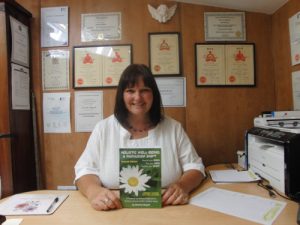 As well as a therapist, I am also an author, and have a book called 'Holistic Well-being: A Paradigm Shift'. I am a health freedom and truth activist. I feel passionate about people's freedom of choice especially when it comes to their health and rights. I have dedicated much of my time freely (and often at my own cost) to spreading awareness of news & views that are not covered by the mainstream, including ways in which we can take back our power and protect ourselves whether it be in health, politics or human rights. I also run a local 'Awakening' group of like-minded people. If you are interested in attending any public talks, group meetings or events I am involved with, please contact me.
I have written many articles, mainly on health issues and some of which have been published in the international health magazine "Health Freedom News". I have also written many articles on other subjects which have been published to the website www.southwalesawakening.org and on my new website:  www.daniellebryant.co.uk.
Please ask me first if you wish to copy or use any information on my website as much of it is subject to copyright issues as it is now included in my book.  I have had many articles and information that I have written copied and even claimed to be others' work in the past, and I feel this is disrespectful and dishonest. I am generally happy for the information to be used if it is not restricted, but please respect me by asking first and acknowledging me!
Thank you for reading x